ISLE 2020 exhibits tour video processing, controller II
Shenzhen Maple Vision Technology Co., Ltd.
LED-W4000 series 8K * 2K video processor
8K * 2K input / output point to point: Contains two modes of HDMI and DVI output.

Backup function: Support input and backup function, automatic or manual seamless switching between main and standby signals.

Multi machine cascade switching: Multiple LED-W4000 in the same LAN will execute synchronous handover operation.

HDR function: Expand the brightness range to show more bright and dark details. It brings richer colors and more vivid and natural details to the display, making the display more close to the human eye.

Input Tile function: Multiple input sources (the same resolution, up to 4 channels) are combined into the whole processor's input end as a combined signal source. Simplify the setup procedure and optimize operation without taking into account the sub / uneven division of output. The Tile function is supported by splicing, switching and backup mode. Support 2 sets of Tile settings, through the front panel Tile button, you can quickly call the combined signal source.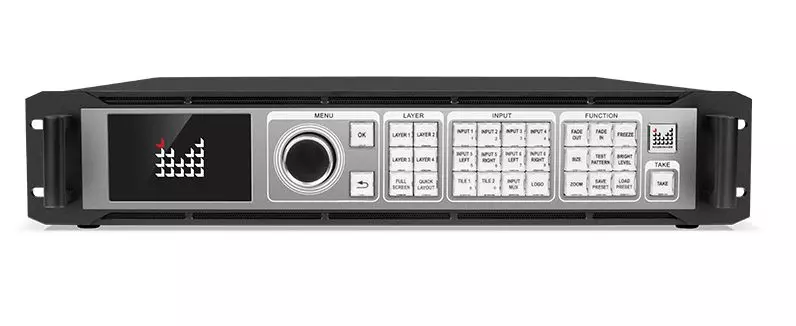 Kalet (Shenzhen) cloud Technology Co., Ltd.






Z6 PRO Super Master



It supports 4 channel 4K video input board, and the single board input resolution can reach 4096 x [email protected]

Support 3 optional 4K video input panels, including HDMI/DP, DVI x 4, SDI * 4, etc.

4 channel 10G optical fiber output, maximum carrying 8847360 pixels, the widest or maximum can reach 8192 pixels.

Support low latency;

Up to 16 windows, multiple layers overlay, arbitrary roaming;

Support video source switching, splicing, clipping and scaling.

Support HDR;

Support 3D display;

Support low brightness and high ash;

Support tone, saturation and contrast adjustment.

Support USB, network, RS232 and other control interfaces.

Support Art-net.
Shanghai Yang bang Polytron Technologies Inc




OVP-M1X video controller



The single machine can carry 1 million 300 thousand pixels, the maximum level is 3840 pixels, and the vertical maximum is 2500 pixels.

Integrated two Gigabit Ethernet port output not only improves reliability, but also brings great convenience to remote maintenance of LED display.

Fast and seamless switching can be achieved between all input signals and output modes.

It has 6 channels of high definition (HD) digital and analog input interface.

Support 3 channel digital input port DVI\HDMI custom input resolution settings;

Support input signal source hot backup;

8 user modes can be stored for users to quickly call.

It has the function of "intelligent navigation" to facilitate users to set up shortcuts.

Support local USB2.0 multimedia playback;

Equipped with 2.8 "color LCD screen (320 x 240).

The device can be controlled by PC control software and USB port.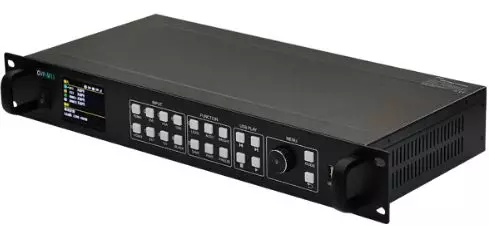 Shenzhen grayscale Technology Co., Ltd.
HD-A6 four in one broadcast box



Support with 2 million 90 thousand (2048*1024) pixel display;The widest: 3840 the highest 4096;

Support HD video hard decoding;

Support 3G/4G/Wi-Fi and other access to Internet management; Quad core 1.6GHz processor;

Onboard Wi-Fi module; 8GB storage space;

Support U disk direct play; Android platform, 60Hz frame frequency output, the screen is smoother and the word is smoother.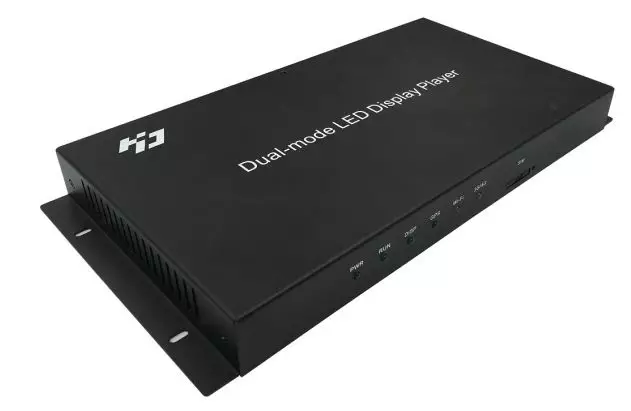 Guangzhou Yice Rainbow Technology Co., Ltd.




Intelligent controller YC-LC518



Support synchronous play and asynchronous play function ;

Synchronous mode and asynchronous mode can manually switch locally, or switch automatically according to plan.

It supports playing text, pictures, animation, video, analog clock, real-time information (real-time network stock information, real-time exchange rate information, real-time news), network real-time streaming media (Internet TV) and so on.

It supports playing local storage programs and multiple windows to play different contents, supporting full HD programs (1080P full frame hard decoding).

Support mobile phone APP control management;

Support remote upgrade and offline test;

Support for updating content via network (Ethernet, 3G/4G, WIFI, etc.) or U disk (automatically update content after U disk insertion).

Support the setup time plan and control the screen brightness and volume size according to different time periods.

Integrated WIFI and 3G/4G module interface, users can be selected according to needs.

Support temperature, humidity, brightness monitoring (external expansion monitoring board);